There are many different ways you can help us support individuals and families in our community. Whatever way you choose, we thank you.
When you donate to HOME, Inc. you increase our ability to help more families find quality, affordable housing. You also help us provide the supportive services that will make our families successful homeowners and renters.
You can donate online safely and securely by clicking the 'Donate' button below.
– Check payable to HOME, Inc., 1618 Sixth Ave. Des Moines, IA 50314
– Calling 515-243-1277 and making a credit card donation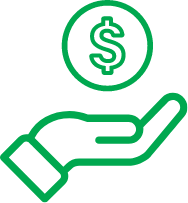 HOME, Inc. accepts in-kind donations of items such as gift cards, gas cards, and bus tokens to help our clients with everyday needs. Contact us today to learn what gifts in kind we are most in need of.
In-kind gifts can be dropped off at our office located at 1618 Sixth Ave., Des Moines, IA 50314 during regular business hours.