My name is Amelia Klatt and I am a recent addition to the HOME, Inc. Board of Directors. I am the Assistant Director of Regional Alumni Engagement at Drake University. I moved to Des Moines in 2009 to attend Drake and fell in love with the city! When I am not at Drake cheering on the various sports teams or meeting with passionate alumni around the country, you can find me at the Wellmark YMCA working at the wellness desk or working out. I am also involved with YNPN (Young Non-Profit Professionals Network) and currently serve as the membership co-chair. I love the Des Moines community and what it has become over the years I have lived here!
Honestly, four years ago I had no clue what HOME, Inc. was. It was not until Kourtney Kirkpatrick, fundraising director, told me about her new position at an organization called HOME, Inc. that I had ever even heard the name of the organization. Just a few months after she started at HOME, Inc. and seeing her eyes light up & her passion come out when talking about it; I knew this was something I needed to get involved with.
My first volunteer experience with the organization was in January 2019 when I walked into a HOME, Inc. newly built home. A group of my friends got together and we volunteered to clean a new build home to make sure it was move-in ready for the family that would live there. That morning we cleaned out the cabinets, scrubbed the floors, made sure the bathrooms were spotless, and learned about the mission, vision, and many of the projects the organization was taking on in Des Moines. Since then we have cleaned multiple new homes and it is just as uplifting and fulfilling each time.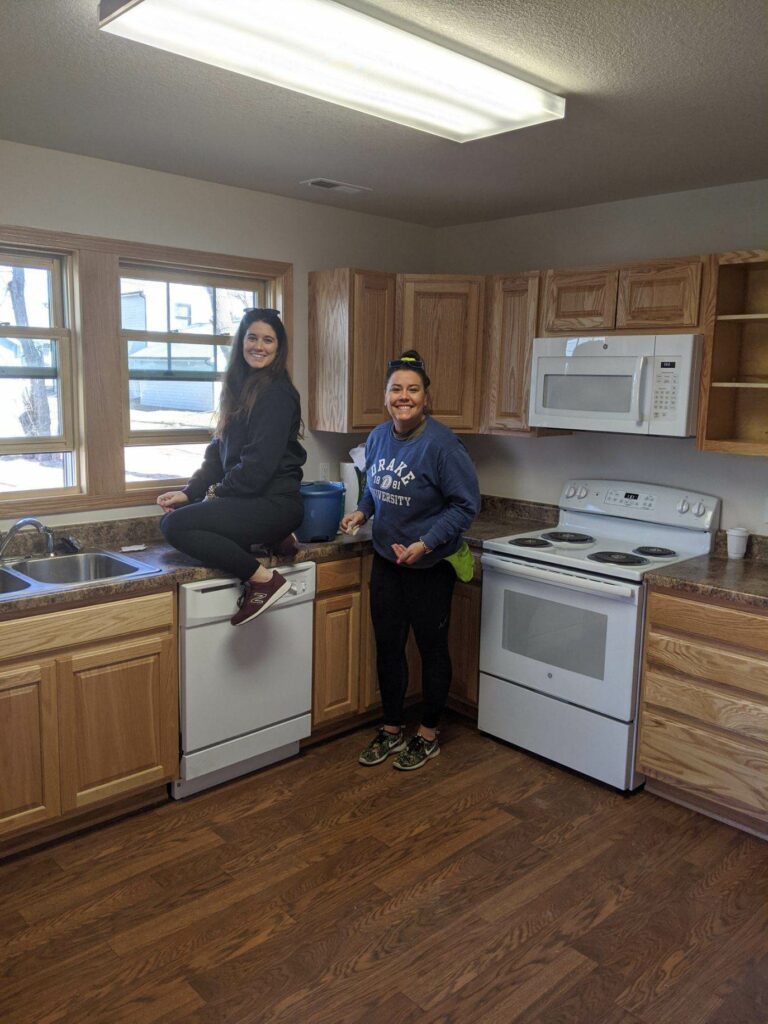 At the beginning of 2020, I was fortunate to join the Board of Directors. This decision was a no-brainer for me – my main goal for being on the board is to create awareness about what HOME, Inc. is doing in the Des Moines community. If only a few years prior I had never heard of the organization, can you imagine how many other people have no idea the work HOME, Inc. is doing? One of my main goals while being on the board is to make more people aware of what this amazing organization is doing.
Five things everyone needs to know about HOME, Inc.
HOME, Inc.'s greatest strength is the staff! They are the real rock stars! This organization would not be what it is today if it were not for them. During the COVID-19 pandemic, the staff has taken on more tasks and roles to ensure the community is getting the assistance needed. They have seen an uptick in phone calls & graciously continued to do their work. THANK YOU!
A few of the main initiatives of the HOME, Inc. staff are: (1) to provide counseling and education to help people become successful homeowners, landlords, and tenants, (2) to develop, rehab, and build affordable housing units, and (3) to help families through counseling and education to become homeowners.
HOME, Inc. is the oldest private nonprofit housing organization in Des Moines.
The mission of HOME, Inc. is to create opportunities for quality, affordable housing.
There are many ways to get involved and volunteer.

Grab a group of friends & help clean a house before a family moves in.

Adopt a family to get gifts for around the holidays.

Bring a treat to the amazing HOME, Inc. staff.

Join us for the annual Hunt for Housing event in the fall. Even better, give an item for the auction or sponsor the event!

Give money! https://www.homeincdsm.org/getinvolved/
Like every person and organization, the COVID-19 pandemic has made a lasting impact on HOME, Inc. The effects of this pandemic will continue to challenge the organization, but in the end, it will make the staff and community stronger. The staff is doing many things to create opportunities for homeowners in the Des Moines community and I do not anticipate that to change any time soon. If you encounter any of the staff members of HOME, Inc. please be sure to thank them for their hard work!